The Mike's Eye Classic Landscapes DVD Collection
Latest Release: Lake District to The Messiah (Highlights) From Autumn through to Spring (July 2009)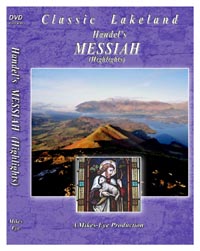 Contents include Sinfonia (3:10) opens with views of Grasmere and continues with images of various wildlife and scenery giving a taste of what's to come. Comfort ye my people – every valley shall be exalted. (6:42) autumn at Rydal Water, views from Nab Scar, Ullswater, Buttermere, Crummock Water and ending with a Barn Owl hunting. O thou that tellest good tidings to Zion (5:54) Christmas window shopping at Keswick, interspersed with a walk up Cat Bells returning via Newlands, and some surprises along the way. A good number of still images in this piece. For unto us a child is born (4:03) – Young lambs full of the joys of spring! with a glimpse of some goslings besides Tarn Hows. Pifa (0:58) – a short visit to Loughrigg Tarn. He shall feed his flock (5:31) – A cold wintry look at bird life on Derwentwater, with an evening sunset beyond a frozen shore line. He was despised and rejected of men (11:10) – Snowy Keswick, deserted Hope and Fitz Parks under snow, including woodland frost formations and a few summer/ winter blends (more still images) Hallelujah (3:43) – The joy of spring flowers, especially daffodils. I know that my Redeemer liveth (6:07) – A lovely snowy tour of Ashness Bridge to Watendlath and return via Walla Crag/ Bleaberry Fell and views. Behold, I tell you a mystery (9:36) – the wonders of spring with imtimate flower shots, visits to Kentmere, Dubwath meadows, Windermere from Gummers Howe, Grasmere (churchyard), Scafell Pike, Borrowdale, Hawkshead church and several winter/spring blends.
1. VIVALDI – "The Four Seasons" (42 mins approx) "a journey through the lakeland year". This was our first video production (1994) and still remains a firm favourite. Locations are generally scattered throughout lakeland but naturally follow the seasons to match the music.
BEETHOVEN – Symphony No. 6 "Pastoral" (42 mins approx) "rural lakeland in harmony". Chiefly filmed during spring and summer, most popular areas of lakeland are covered, including a section on Keswick Show, a very dry and then a stormy Haweswater.
2. MOZART – Favourites (approx 56 mins) "Lakeland and Cumbria miscellany" Excerpts from Symphony No. 40, Piano Concerto No. 21, Clarinet Concerto, Violin Concerto No. 3, Eine Kleine Nachtmusic (Allegro & Romance), Ave Verum Corpus, Concerto for Flute & Harp. This video covers a wider area of Cumbria, including the western coast and the Eden Valley. Various artists
J.S. BACH – Favourites (approx 42 mins) "A joyous kaleidoscope of lakeland". Excerpts from:- Christmas Oratorio, Jesu Joy of Man's Desiring, Brandenburg Concerto, Sheep may safely graze, Suite No. 2, Air on the G string, Cello Suite No. 1, Piano concerto No. 5, Double Violin Concerto.
3. ELGAR (1) YORKSHIRE DALES (approx 42 mins) CELLO CONCERTO – Ingleborough, around Ribblehead / 3 Peaks country, Gordale Scar, Malham Cove, Malham Tarn, Arkengarthdale to Tan Hill, Semerwater, Brimham Rocks, Muker show, part of Swaledale, the old lead smelting ruins near Reeth, and a few other limestone features etc. SERENADE FOR STRINGS Mainly Swaledale including Gunnerside and Reeth; Wensleydale and Dentdale, including Castle Bolton and around Langstrothdale.
ELGAR 2 (the Dales, the Malverns Hills and Ilkley Moor) 42 mins – The Enigma Variations (the Malverns, and the Dales), Sospiri, (wild flower meadows of Muker in Swaledale) Salut d' amour (Ilkley Moor) and Elegy (a relective view of the dales with erratic boulders of Norber)
4. PEACE – a relaxing selection – 42 mins Delius – On hearing the first Cuckoo in Spring (blue- bells at Rannerdale etc.); Grieg – Piano Concerto in A Minor – Adagio (autumn Ullswater); Chopin – Piano Concerto No. 2 – Larghetto (autumn around Coniston Water); Brahms – Violin Concerto – Adagio (moorland around Dock Tarn/ Ullscarf); Handel – Largo from Xerxes (jaws of Borrowdale); Vivaldi – Guitar Concerto – Largo (autumn Derwentwater); Albinoni – Oboe Concerto adagio (snowy Borrowdale)
TRANQUILLITY approx 52 mins – Albinoni Adagio (includes the ospreys at Bassenthwaite Lake), Albinoni Oboe Concerto, (Orrest Head/Arnside area) Massenet meditation from Thais, (Tarn Hows and Tilberthwaite), Marcello Oboe Concerto (Wintry fells), Beethoven Moonlight Sonata (twilight hours) & Emperor Piano Concerto (Buttermere & Crummock), Mahler Adagietto (sundry Lakeland) Various artists from Naxos.
5. RACHMANINOFF – SYMPHONY No. 2 (approx 53 mins) – "A celebration of autumn colours" Lakeland is renowned for its autumn colours, and this video shows it at its best, from misty early mornings to glorious full sunshine, with a little wildness between. CSR Symphony Orchestra, Stephen Gunzenhauser.
SIBELIUS SYMPHONY No. 2 (approx 42 mins) – "Lakeland at its dramatic best" This video covers lakeland from late autumn to wild winter, dramatic weather to fit dramatic music, but with mellow mists and sections between. Slovak Philharmonic Orchestra, Adrian Leaper.
6. MAHLER Symphony No. 1 (approx. 53 mins) – Classic Lakeland/ north Lancs video- A wonderful piece of nature music covering a wide range of countryside emotions, with inspired video imagery featuring early morning mists, a wealth of spring and summer lakeland and wildlife photography; Grasmere sports; frolicking lambs; Bassenthwaite scarecrow festival; Borrowdale cloud inversions; the Keswick floods; the Arnside Bore; leaping salmon; fell racing and sweeping flocks of starlings – One of the best! Also includes Blumine (7min 15secs) the original 2nd movement of the 1st Symphony and the final movement of Symphony No. 3 (25min 31secs) which includes some Scout Scar views, accidental heather fire, a climb to Skiddaw summit and various dramatic sunsets.
7. TCHAIKOVSKY Symphony No. 6 (Pathetique) Classic Lakeland – Opening with various foggy scenes this progresses to mixed moods of autumn colours, highlighted with a dramatic night storm and a speeded up car journey along a favourite lakeland route. A snowy Windermere section followed by a detailed look at Coniston Water is seen before another speeded up journey between Grasmere and Keswick. The wonderful final movement concentrates on being on the mountain tops during a temperature inversion (above the freezing fogs below) including dramatic time-lapsed cloud formations and a brocken spectre. The andante from the Violin Concerto is also included which concentrates on spring time views and animals, some around Claife Heights.
8. SCOTLAND dvd has Bruch's Violin Concerto and pieces by Mendelsson – Bruch features a snowy Loch Lomond/ Arrochar area followed by a little wintry ski-ing in the Cairngorms. A spring thaw leads to summery conditions with a stormy Glen Coe, views from Ledaig near Oban, on to the Isle of Skye (including Cuillin views and a visit to the Old Man of Storr) before returning to the mainland near Oban and Glen Coe once more. The final movement mainly visits the Newtonmore Highland Games (Clan Macpherson march) The Scottish Fantasy begins with a few historical sites including cemeteries and ruins, then visits the far north (Durness coastline) ending at Beauly. Another movement crosses from the west coast near Ullapool down and across to Braemar and the east. The final movement shows an open air Ceilidh at Grantown on Spey, a woodfest in Anagach Woods, views along the Spey valley to Ballindallock Castle, Brodie Castle, Elgin and the Moray Firth. The MENDELSSOHN program features:- 1: Overture Die Hebriden (Fingal's Cave) 10:56 The sound of Iona and a boat ride to the Treshnish Isles, featuring puffins, and Staffa on a sunny windy spring day. 2: Adagio from Symphony No. 3 "Scottish" 10:15 featuring Iona, Mull, and on to the Arisaig peninsular with its wonderful beaches and views to the western isles. 3: Notturno (from incidental music to"A midsummer night's dream") 6:25 Some historical sites between Fort William and Lochgilphead including Glen Shiel. 4: Calm Sea and Prosperous Voyage 13:34 – A peaceful opening showing various Loch and coastal scenes, ending with some rough seas and a landing at Mallaig.